Eva Peterson Lenassi
Artwork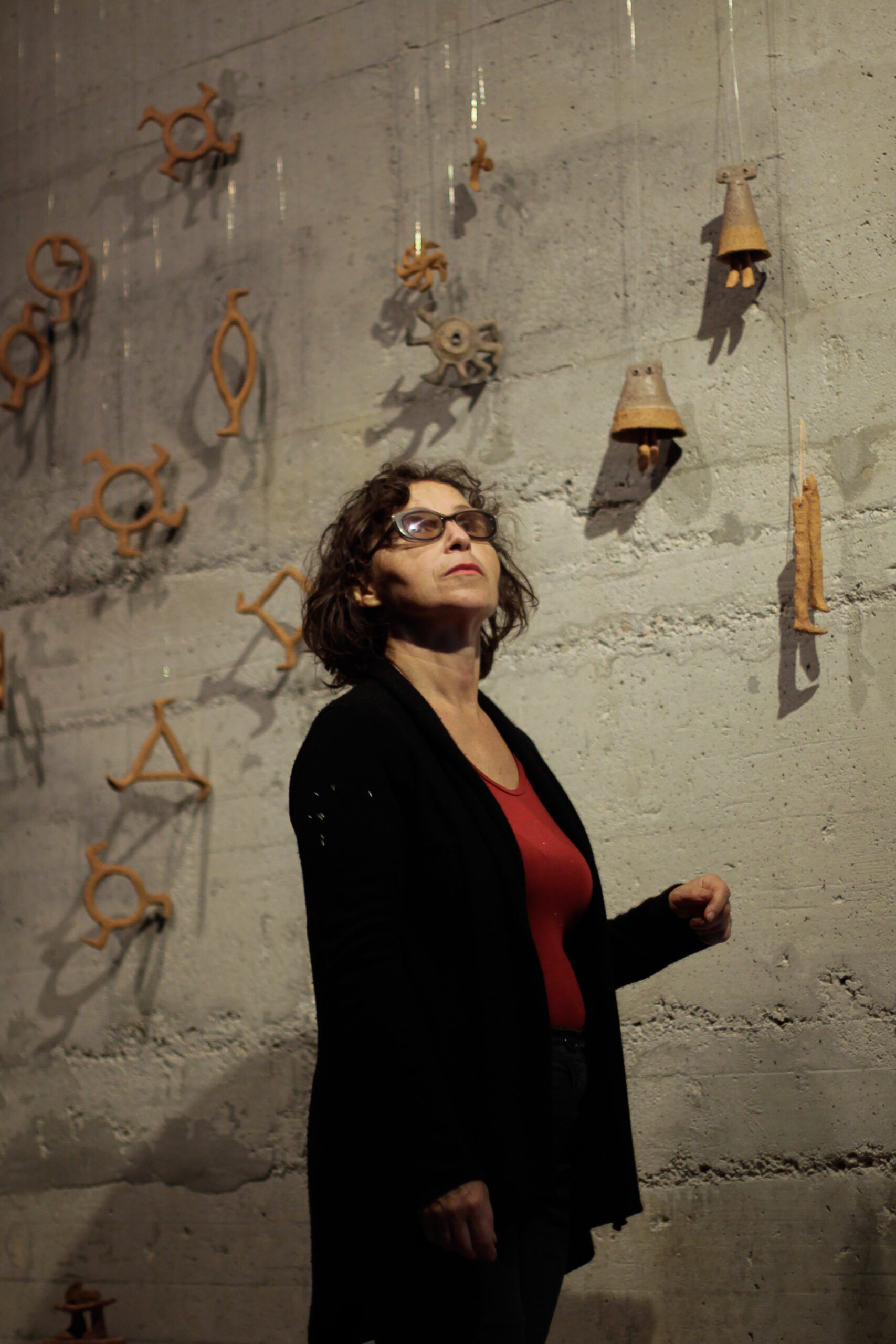 Eva Peterson Lenassi
1959, Koper, Slovenija
"In 1983 I completed my studies at the Academy of Fine Arts in Ljubljana, specializing in Sculpture. Between 1995-1999 I studied Ceramics at Indiana University in Bloomington, IN.
I live and work in Ljubljana, from my studio in the National Ethnographic Museum of Slovenia where I create and teach sculpture and ceramics to various groups of students.
I exhibit my artwork in Slovenia and abroad, frequently in urban spaces and nature, using the environment as the basis for my artistic exploration.
My latest self-initiated interventions are posted on Instagram."
Solo exhibitions
2020-ongoing, Ljubljana, Platform at the Slovenian Ethographic Museum, Intervention in Space
2007, Piran, Herman Pecaric gallery, solo exhibition
2006, Piran, Galerija Meduza, Fructus Ignis, the artwork of the month
2006, Ljubljana, The society of Artists , solo exhibition
2004, Galerija Loterije Slovenije, 'Structures'
2003, 2004, 2005 Lokovec, Slovenija, land art
1995 Dol pri Ljubljani, Slovenia, Instalation of ceramic objects inside and along the river Sava
Group Exhibitions
2020, Hong Kong, Hong Kong Cultural Center, Connections
2018, Slovenian Consulate in Klagenfurt, Austria, Window to the Neighbour
2018, Hrušica Slovenija, Creative School of Ceramics: The Magic of Clay (as part of the UNICUM 2018 Competition)
2017, Town Hall Ljubljana Slovenia, Ceramics in the Town Hall: Cylinder
2017, Gyeonggi, South Korea, Gyeonggi International Ceramic Biennial 2017 (AWARDED)
2017, Ljubljana Castle Gallery 'S', Ljubljana, Artist Sketches
2017, City Gallery Piran, Slovenia, Keramos: Here and Now
2016, 13.–22.5. Open Studios, Ljubljana
2015, Berlin, Germany, Contemporary Ceramics from the Republic of Slovenia
2014, Bornholm, Denmark, European Ceramic Context 2014
2013, Jesenice, Zgornjeposavski Museum, Articulation Artistica Internacional, group ex.
2013 Kamnik, Museum , Group ex. 'Bridges'
2013, Voglje, 8th International Simposium of Ceramic Art V-oglje 2013
2012, II. International ceramic Triennial UNICUM 2012
2012, Zlakusa, Serbia, XVI International Art Colony of Ceramics 'Zlakusa 2011' Užice
2011, Town hall, Ljubljana, 'Black'
2010, SEM, Ljubljana, 'Water'
2009, Ljubljana, National museum, I. International Triennial of Ceramics UNICUM 09
2008, Radovljica, photo exhibition
2006, Piran, Exhibition of the awarded Artists of the Ex-tempore Piran 2005
2006, Ljubljana, DLUL, Group exhibition
2005, Postojna, Slovenija, Exhibition of the Awarded Artists of the 1st Biennale of Slovenian Ceramics
2005 Piran, Slovenia, Ex-tempore Piran 2005, VI. International Ex-tempore of Ceramics (AWARDED for the most innovative artwork)
2004, Indianapolis, USA, The 2004 international Orton Cone Box Show, NCECA (AWARDED)
2004, Amaroussion, Greece, 1st European Ceramics Compettition EUCECO
2004, Postojna, Slovenija, 1st Biennale of Slovenian ceramics (AWARDED)
2004, Ceramics in Slovenia, National Museum of Slovenia